The moment the bride and groom stand in front of all their guests and cut the cake is a must for nearly all weddings. The bride and groom get cake in their face, there is a photo op and each guest receives a slice of the infamous cake. This has been a tradition for years and years, and is one that is probably not going away anytime soon, no matter how much money a bride puts into her hair and makeup the day of. Despite tradition, it's important is to remember that not all guests enjoy cake, or some guests may not have much room left after a filling dinner. So, try the alternative for your wedding desserts, a dessert bar. You can still order a cake to keep the tradition alive, but a dessert bar is a sweet touch to add onto any wedding! Here are a couple of dessert bar ideas you might want to try:
Chocolate covered strawberries – You can't go wrong with chocolate covered strawberries. If you want to take it to the next level, include a chocolate fountain so guests can prepare the strawberries themselves.
Mini cupcakes – The perfect way to give your guests a variety of flavors without buying multiple cakes. Be sure to include fruity and decadent flavors to satisfy all flavor pallets.

S

'

mores Bar – A s

'

mores bar is a great option because it serves as a form of entertainment for your guests, while adding a unique touch.

Dessert Shooters – If the only shooters you provide at your wedding come from the beverage bar, you may be in trouble. Dessert shooters can include a number of bite-sized desserts such as tiramisu, carrot cake and red velvet cake.

Pastries – Carbs and sweets, what more could your guests want? Having a variety of pastries is a great add to any dessert bar. Popular pastry items include lemon bars, mini  and mini éclairs.
Macaroons – The great thing about macaroons is they come in all colors, so they can truly go with any wedding theme. Plus, they're cute!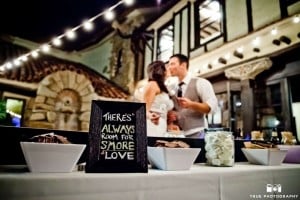 Photography: True Photography
Venue: Mt. Woodson Castle