When searching for a San Diego wedding catering company, there are many aspects to consider. We're here to help you make an informed decision! We feel that choosing a wedding caterer should be the most fun part of the whole planning process. When evaluating wedding caterers, here are five factors to keep in mind:
1. Experience
Like many other industries, a lot of what you're paying for is experience. You can tell a lot about a catering company by the length of time they have been around. Take note of how many years the company has been in business, and which venues they work at regularly. This will help give a sense of their place in the industry. There is a respect of industry peers that can only come with time.
Also, a San Diego wedding catering company that has been around for several years will likely be familiar with your specific scenario for your event. They will be able to anticipate your questions, and propose solutions you may not have considered. The more knowledgeable the company, the more seamless the event will be.
2. Creativity of the San Diego Wedding Catering Company
The wedding menu is one way to make your event stand out and be memorable. When evaluating a catering company, consider how creative they are in their approach. Is there care in the presentation? Are seasonal ingredients used in interesting ways? Are classic menu items given a signature twist? These are all things to observe and notate.
One way to get a sense of the creativity is photos. Browse galleries of past events, and you will quickly see the company's style and presentation If your San Diego wedding will include buffet tables and tray passed hors d'oeuvres, ask to see examples. Based on what was done in the past, you'll understand more about how the catering company will come through for you. Especially relevant are events like yours, such as at your venue, or with a similar setup as you will have.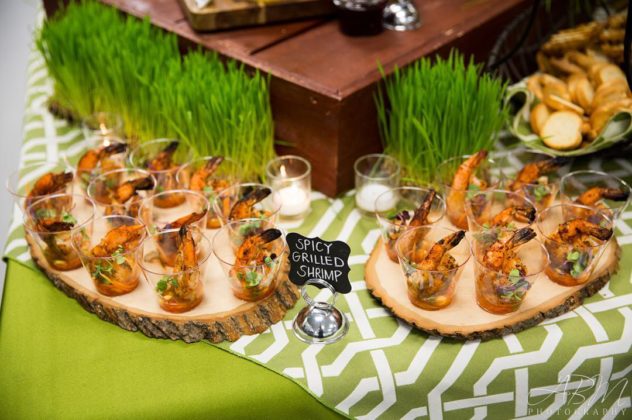 3. Enjoyment
When you talk with a catering company, or meet in person, see if they love what they do. Is there a passion for cuisine, and for making guests happy? Ask yourself if the catering company truly enjoys their work. Furthermore, see if they have initial ideas for you that will make your event better than you envisioned. If there is a positive energy and you walk away impressed, it's a pretty safe bet that you are in good hands.
4. Reviews
We've talked about finding a catering company that's well regarded by industry peers. Additionally, it's important to know what past clients think. Online reviews are a helpful way of determining quality. Websites like The Knot, WeddingWire, and Yelp all feature verified reviews by actual clients. Check out many San Diego wedding catering company reviews. Read beyond the star rating and see what people have to say about their experiences. They may offer helpful tips and suggestions, such as a particularly awesome menu item or dessert to request. Also, don't be afraid to ask questions based on reviews you have read.

5. Delicious Food
It may sound like a given, but make sure the food is delicious! Consider that in addition to talent and expertise, you are paying for quality ingredients. If a price is super appealing but the food doesn't measure up, it's likely not worth the savings 🙂 However, if exceptional food is a priority for your wedding, then a respected caterer is worth every penny. That way, your guests will leave happy and satisfied!
In conclusion, we hope this helps you select your San Diego wedding catering company! With over 30 years in the catering industry, we are prepared for all scenarios, and lots of ideas to make your wedding amazing. We'd love to talk over your upcoming event and how we can give it that "Personal Touch" 🙂