Gone are the days of bad food at weddings.  More and more couples are really focusing on the food aspect of their wedding. Food at weddings isn't just a thing to fill a need for your guests; it's a way to really wow them! With more and more "foodies" in this generation couples can really amp up their wedding with some fun, creative, and delicious food options. Check out some wedding food trends that we can't help but love!
Treats and Desserts as Favors
Recently guests have been growing tired of the standard favors that they most likely won't use after the wedding, but one thing we have noticed as that people go crazy for food-related favors.  A candy bar is a popular favor that guests love.  If you are looking for a little something different give out something that you and your fiancé both love.  Maybe on your first date you found out you both loved peanut butter cookies and give them out as favors. This way you add your own personal touch, while giving your guests something they will love!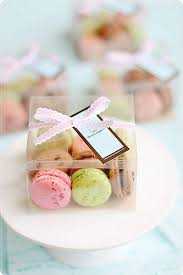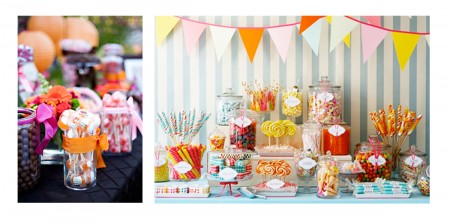 Donuts
Donuts are a big one this year. It seems to be the new craze whether it's a cronut or a gourmet maple bacon donut; guests just can't get enough of them!  You can choose to forgo a cake, if you aren't really into cake that much, or use it as a dessert enhancement to satisfy your sweet tooth.  Donuts can be stacked up high with different flavors or spread out on an assortment of platters.  Either way, have fun with it and choose flavor that you like!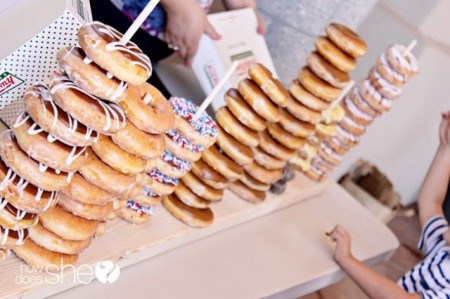 Stations
Stations are growing ever so popular in the wedding world.  If you are looking for more of a moving style reception, but you don't want your guests to have to wait in a long line for their food, try out stations.  Your stations can all work together to form a cohesive menu, or you can mix up your selections to give your guests a little bit of everything.  Scattering your stations will allow your guests to move about your reception and not be confined to their tables.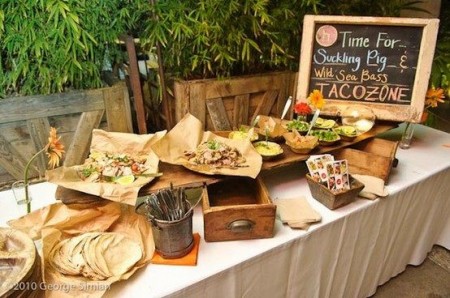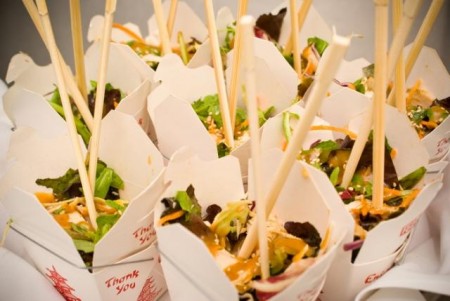 Gourmet Comfort Food          
For a lot of your guests, the most memorable part of the wedding is the food. Your menu does not have to be limited to just chicken and fish! Some of the most memorable menus we've seen involve lots of comfort foods. Imagine your guests' faces when they walk into your reception expecting to see the typical trays hors d'oeuvres and instead find mini chicken and waffles with BBQ Maple Sauce or mini sliders with smoked gouda; or even a mini grilled cheese with a tomato bisque shooter!